As we wait for the screening of "Psychodrame", Rossellini's footage included in the 36 Torino Film Festival in Torino, Italy (
http://www.torinofilmfest.org/film/37697/le-psychodrame.html
),we
would like to talk about the special encounter which took place between Jacob Levi Moreno and the future actress Elizabeth Bergner in Vienna, many years ago.
In her autobiography "Bewundert Viel und Viel Gescholten" (Much Admired and Much Chided) Elisabeth "Lisl" Bergner writes that JLMoreno was the first person to understand her potential to play on the stage.
At that time, she was a little girl from a secular Jewish family that chose JL , a young medical student, as a tutor for their three children. Lisl loved his lessons and, above all, his creative games without toys, involving the other children in the Viennese parks: they all had to sit in the meadow and a new fairy tale would be thought up through simple questions and action methods!
Moreno was remembered as the first of the several "angels" that Elisabeth met in her life: she clearly remembers how he said in her presence to her parents:"She will become an actress!". She was speechless, while her parents replied: "That's all we need!" and laughed. She never forgot it.
Some years later, in 1915 Elisabeth Bergner was a stage interpreter in Innsbruck, developing her career in Berlin and Paris, before she moved to London to work in films.
Her signature role was Gemma Jones in "Escape Me Never", a play written for her by Margaret Kenned. Thanks this work, she began to play in Broadway in 1935 achieving great success with a film version too and receiving a nomination for the Academy Award - Best Actress ( her competitors were Bette Davis, who won, and Katharine Hepburn, Merle Oberon, Claudette Colbert). Many further successes followed, like playing in "The Pedestrian" (Der Fußgänger), a 1973 film directed by Maximilian Schell, awarded with the Golden Globe.
In conclusion, J.L. Moreno was absolutely right!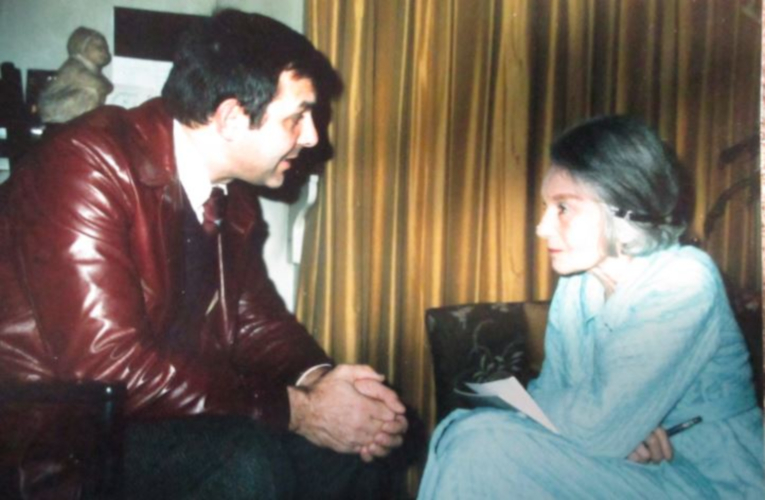 In this picture, from A.A.Schutzenberger's archive, you can see Elisabeth Bergner with prof. René Marineau, the biographer of J.L.Moreno and our association honorary member