JAKOB L. MORENO (1889-1974)
Begründer der Gruppenpsychotherapie Psychodrama

Mitbegründer der Soziometrie

Einfluss auf Soziologie, Gruppenpsychotherapie und Theater
 
In Bukarest geboren kam er mit seiner Familie ca. Mitte der 1890er nach Wien.
30 Jahre später, 1925 verließ er Österreich und ging nach den USA, wo er bis zu seinem Tod im Jahr 1974 blieb, und seine in Österreich entstandenen Ideen verwirklichte und weiter entwickelte.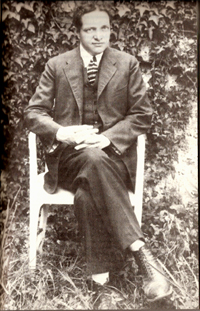 Seine Jahre in Wien und in Niederösterreich waren prägend für die späteren Arbeiten und Erfolge in Amerika.
Sie reichten von Phantasiespielen mit Kindern in Wiener Parks über soziales Engagement wie Flüchtlingshilfe und Selbsthilfegruppen für Prostituierte bis zu schriftstellerischer Tätigkeit und Leitung eines Stegreiftheaters.
Seine Ausbildung zum Arzt führte ihn bereits 1915 nach Niederösterreich. Noch als Medizinstudent kam er in das Flüchtlingslager Mitterndorf a. d. Fischa und nach dem Ersten Weltkrieg war er bis 1925 in Bad Vöslau als Gemeindearzt und Werksarzt in der Vöslauer Kammgarnfabrik tätig. Daneben pendelte er in dieser Zeit regelmäßig nach Wien, um seinen künstlerischen und bald auch seinen therapeutischen Aktivitäten nachzugehen.
In dieser Zeit und eben in Niederösterreich entwickelte er die dritte österreichische Psychotherapiemethode Psychodrama, Soziometrie und Gruppenpsychotherapie. Nach seiner Auswanderung 1925 in die USA verbreitete er seither seine Methode weltweit, organisiert in der International Association of Group Psychotherapy and Group Processes (www.iagp.com), dem auch die GruppenanalytikerInnen-, FamilientherapeutInnen- und OrganisationsentwicklerInnen angehören. Die Universität Wien, an der er in Medizin promovierte, verlieh ihm 1969 das Goldene Doktorat. Die Österreichische Gesellschaft für Literatur überführte seine Urne 1993 in ein Ehrengrab der Stadt Wien.
J.L. Moreno hat von seinem jüngeren Bruder William (Wilhelm) sehr viel Unterstützung erhalten – sowohl in seiner Zeit in Wien als auch in den USA. Joseph Moreno, der Sohn von William L. Moreno hat im Britischen Journal für Psychodrama und Soziodrama über die Rolle seines Vaters geschrieben: "The Deeds of My Father: William L. Moreno" von Joseph Moreno. British Journal of Psychodrama and Sociodrama, Vol 21, Number 1, 37-45